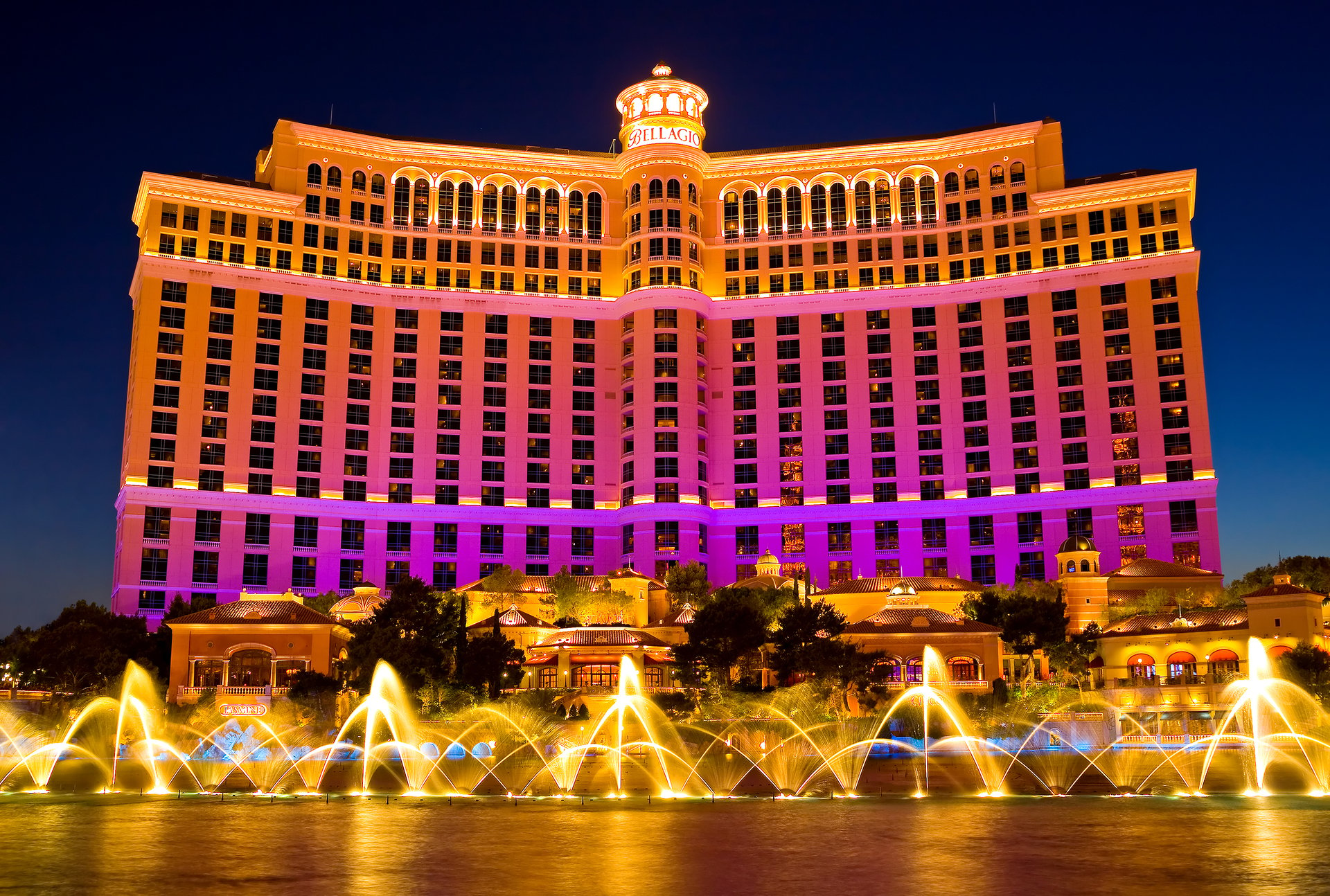 An LGBTQ+ Guide to Las Vegas
The only place to book connecting hotel rooms and suites. Here's how.
An LGBTQ+ Guide to Las Vegas/h4>
Las Vegas has always been queer—or at least since the city's postwar boom. Back in the early 1950s, LGBTQ+ artists were keeping Vegas entertained, impersonating divas like Pearl Bailey and Judy Garland. Today, Las Vegas is a top destination for same-sex weddings and people looking to cut loose at its pool parties, clubs, and drag shows. Where else can you see Lady Gaga, get married at the Gay Chapel of Las Vegas, and enjoy a rainbow-colored nightcap all in one evening? Here are our top picks on how to live it up loud and proud in Vegas.
Perfect Pride Weather
The Las Vegas Pride Parade falls in October, when the temperature averages in the 80s during the day—perfect for hitting the pool—and drops to the 40s at night. Both the parade and two-day Las Vegas PRIDE Festival take place downtown, in 2019 from October 18 to 20. The city celebrates the entire weekend with numerous after parties, from the Hot Fuss Pool Party at LINQ to the Cosmopolitan's Boulevard Pool.
Pro tip: Before the parade, head to the Cosmopolitan of Las Vegas to enjoy a Rainbow Reign cocktail and an Instagrammable moment beneath the hotel's iconic multi-story chandelier, which glows in rainbow colors just for Pride. For more grammable spots in Vegas, check out our guide.
Stay in Style
Keep your friends together with connecting hotel rooms, which provide a common area for the group to hang out in and ensure the party can continue even if someone wants to go to bed. You won't have to travel far to find fun if you stay at The Cosmopolitan, where the spacious Terrace Suite + Terrace One Bedroom Fountain View features an oversized terrace with stunning views of the Fountains of Bellagio. Gaze at the bright lights of the Strip from floor-to-ceiling windows at the Encore at Wynn's Encore Resort Suite Double Queen + Encore Resort Suite King. Hit up the longest running gay pool party on The Strip at The Luxor and room with seven of your closest (or newest) friends in the Tower One Bedroom Suite + Tower Premium Queen Room, which has three beds. Scope out hot bodies from the comfort of your hotel room in the Mandalay Bay Resort & Casino's Media Suite, which has an excellent view of the pool and a 949 square foot parlor with seating for up to ten guests. Admire Roman-inspired artwork and architecture in the Julius Premium Suite at Caesars Palace and don't miss the seven fabulous pools at the Garden of the Gods.
Pro tip: Encore at Wynn employs a "Pride Concierge" who can direct you to LGBTQ+ bars, entertainment, and nightlife throughout the city.
Find the Fruit Loop
Many Vegas clubs reserve Sunday nights for special LGBTQ+ events. That's when the Cosmopolitan's Marquee nightclub hosts Freedom night—one of the largest gay parties on the Strip. If you're not keen on the frat boys and bachelorette soirees at most pools, the gay pool party Temptation Sundays at the Luxor is a welcome alternative. The best bar hopping happens in an area called the "Fruit Loop" or "Gay Quarter," a small quadrant along Paradise Road just north of the airport and south of the Hard Rock Hotel & Casino. There you'll find more than a dozen bars ranging from queer cowboy hangouts (Badlands Bar) to old-school lounges with drag shows (Flex Cocktail Lounge) to sports bars with shuffleboard (The Garage).
Pro tip: If you are into the aforementioned frat boys and bachelorettes, we've compiled the 10 best pool parties in Las Vegas.
Get Married By Marilyn (Manson or Monroe)
The only gay-owned-and-operated chapel in Las Vegas knows how to pull off a campy kitsch wedding. At the Gay Chapel of Las Vegas, you can be married by an Elvis, Tom Jones, or Liberace impersonator as well as a selection of odd tribute artists such as Marilyn Manson, Marilyn Monroe, and Dracula. Wedding packages can include props and sets like being driven down the aisle in a 1964 Pink Cadillac convertible or carried down the aisle on a throne by hunky Egyptian guys. The chapel, located downtown, also has traditional ministers.
Pro tip: You can live stream your ceremony, so all your family and friends back home can witness your union.
Play with Balls
Not those balls! The Las Vegas Sin City Classic is the largest LGBTQ+ sporting event in the world. What began in 2008 as a modest softball tournament has grown to include 240 softball teams and 22 other competitive sports (including flag football, wrestling, running, dodge ball, body building, darts, and more), attracting more than 6,500 athletes. The next Sin City Classic takes place January 16-19, 2020.
Pro tip: Four days of competitive sports means four nights of incredible parties with hot athletes from all over the world.
Socialize Sans Alcohol
You're surrounded by support if you're sober in Vegas. The Gay and Lesbian Community Center of Southern Nevada, known to most as the Center, provides helpful resources for the LGBTQ+ community, including group sessions for intersex persons, support groups for LGTBQ+ children and families, a chapter of Alcoholics Anonymous, and a clothing exchange for transgender/GNC communities. The Metropolitan Community Church (MCC) of Las Vegas offers non-judgmental interfaith religious services and opportunities to socialize with other worshippers. In the early 1970s, the MCC played a pivotal role in establishing the gay community in Las Vegas.
Pro tip: There are AA meetings specifically for the LGTBQ+ community every day in Las Vegas. Check out gayandsober.org for a list of where to go.
(Updated 6/25/19)